Vision
O
ur vision is to advance knowledge and services for people with FND in Australia, so that Australian's affected by FND may live a fulfilling life and reach their full potential.
How we got here
I
n April 2017 we registered the first Australian FND charity – FND Hope Australia Inc. to support Australians affected by FND and to advocate for increased awareness of FND in Australia. Over the first 18 months of operation it became clear that we urgently needed to offer more than 'hope'. There was a dire need for practical support services and education and training for health professionals was needed to improve the quality of care people were experiencing.
At a general meeting in December 2018 the board and ordinary members unanimously decided to re-brand the organisation as 'FND Australia Support Services', with the aim to offer support services, advocacy, information, education and training and to advance research into the condition.
Legal Structure of the Association
FND Australia Support Services Inc. ('the Association") is an Australian registered charity, incorporated in June 2017 under the Queensland Associations Incorporation Act 1981 with incorporation number IA 56985.
FND Australia Support Services Inc. is the only organisation supporting Australians with Functional Neurological Disorder. Because it is a registered charity, the income of the Association is exempt from Income Tax. All Board and Committee positions are voluntary, without remuneration.
The Association is registered as an Australian Registered Body with the Australian Securities and Investments Commission as ARBN 631 343 701; with the Australian Taxation Office under Australian Business Number (ABN) 59 414 792 013 and with the Australian Charities and Not-For-Profits Commission.
Gifts, Bequests and Donations
Gifts, bequests and donations in support of the Association's work can be made at any time, and will be gratefully acknowledged. The Association has registration as a Deductible Gift Recipient, which means that all donations over $2 are tax deductible.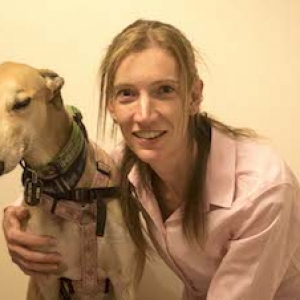 Dr. Katherine Gill B.Tech. (Bio), B.Sc. (Hons, H1), M.O.T., Ph.D. President
Kate G was the founding President of the first FND Australian charity in April 2017. Kate is a Registered Occupational Therapist and has worked in a number of mental health organisations in senior management roles. She is also a researcher and is experienced in medical and mental health research.
Kate G brings many skills and experience to her position as President for FND Australia Support Services, but it is her lived experience in FND that supports her passion and experiential wisdom to advance FND knowledge and services in Australia.
Kate G is also a founding member and Chair of the Consumer Led Research Network at the University of Sydney. In 2018 Kate was awarded the SANE Australia Hocking Fellowship to advance FND knowledge and awareness in Australia based on lived experience evidence.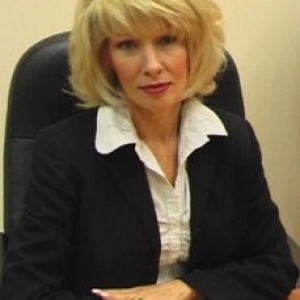 Julie Wright Treasurer & Office Administrator
In early 2018 Julie commenced the Treasurer position for the Charity. Julie recruits our volunteers and is responsible for the day-to-day administration for the Charity and also assists with administrative duties for the FND Clinic.
Unlike her own positive experience with diagnosis, early treatment and education with Neurologist Dr Alex Lehn in 2015, Julie quickly learned many Australians had been left without education and a treatment plan for their diagnosis. A post-it note with a website in explanation of the FND diagnosis without a clinical pathway to treatment is unfortunately common.
Julie spends a great deal of her time providing information on clinical pathways for treatment and information on how to access services and programs offered by the FND Clinic. Julie also answers inquiries from the public, NGO's, medical providers, and state health departments with FND information and education. Julie is passionate in her Peer Support work and finds this work richly rewarding.
Julie is a published author and song writer, a very proud Mum and Grandma, loves gardening and her little Chihuahua Daisy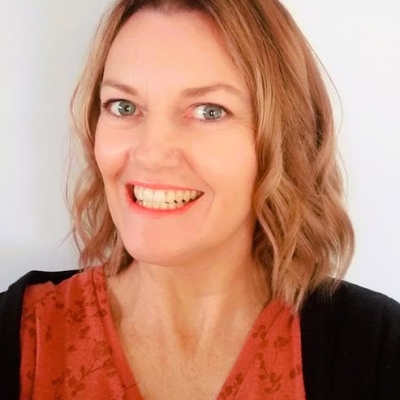 Sue Hoogenbosch Secretary
Sue was appointed Secretary of the Charity in June 2022 and has been an active and valued member of the FND Community since 2016. Prior to becoming unwell with FND in 2016, Sue worked in vocational education commencing as a teacher then coordinator for a number of departments across three regional sites, working at all levels from teachers to department and campus managers, then undertaking further training as an auditor. At the time Sue lived in regional NSW also helping her husband manage three beef cattle farms.
Sue's lived experience with chronic illness and disability underscores her keen interest in representing and advocating for those in the community who have interactions in the health setting. Sue volunteers her time as a Consumer Representative with the Wide Bay Hospital and Health Service Queensland and enjoys this role immensely.
Family and community are Sue's passion, mother of two beautiful daughters and wife of 27 years with Marc, Sue is an inspiration to all who meet her.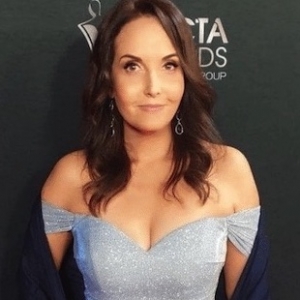 Rachel Kayrooz Ambassador
After two parallel early career paths in the corporate sector and the Arts, Rachel's survival of domestic violence and homelessness steered her to the communities sector, where she worked for 16 years as a public speaker, facilitator, advocate, consultant, ambassador, and media spokesperson.
Rachel has received several awards for her work, including the Pride of Australia Courage Award, Qld Child Protection Education Award and the Lord Mayor's Australia Day Achievement Award. Her philanthropy in the domestic violence sector raised tens of thousands of dollars for frontline and community organisations.
Following her diagnosis of FND in December 2021, Rachel was led back to the Arts, winning the 2022 AACTA Reg Grundy Award for her unscripted reality tv show pitch, Facing the Fear. With the show in the very early stages of development, Rachel has reignited her love of writing and is also working on her Emerging Artists Youth Program.
When she is not dreaming about travel, or managing her daughter's music career, Rachel is a loved-up labradoodle mum, who is passionate about animal welfare, empowering youth, and accessibility in the arts and its impact on participation for people with disability.
Rachel is honoured to be an Ambassador for FND Australia, to assist in raising awareness in the medical sector, media, and across communities. Her Ambassador goals for 2023 are to raise funds through the FND Australia Walk & Wheels, finish her documentary Not My Story about the journey of FND, and to keep finding the joy in every day alongside fellow FND warriors.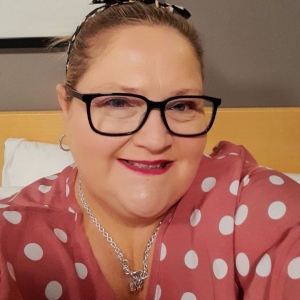 Jules Lowe Volunteer
She/Her
Lives on Dja Dja Wurrung land
Jules had a 30 year career as a Social Worker in the area of Family Services and Out of Home Care, Suddenly becoming unwell Jules was diagnosed with FND in February 2020. Jules' diagnosis of FND resulted in having to give up her career and focus on how to best manage symptoms and deal with loss of independence.
Jules believed she could use her skills, experience and valuable knowledge from being a Social Worker along with her lived experience of FND. Jules has a passion for advocating for those facing challenges and decided to volunteer with FND ensuring fellow peers have a safe environment to discuss their needs and share experiences. Jules is also passionate about raising awareness of FND.
Jules really enjoys volunteering with FND and contributing to the community.
Jules recently married the love of her life, Jules' wife is her biggest supporter especially during diagnosis of FND and continues to be by Jules' side during the everyday battles that are faced. Jules loves spending time with her grandchildren, who melt her heart. Jules' other passions include animals, music, Richmond Tigers, being creative, watching reality tv and flying around in her wheelchair which gives her independence. Always wanting to challenge herself Jules is currently studying Diploma Art Therapy and owns a Cafe in Central Victoria.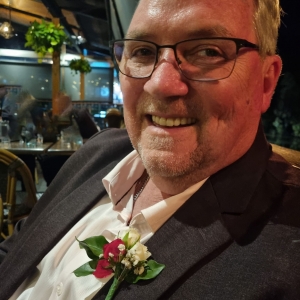 David Bond Volunteer
David was diagnosed with FND 4 1/2 years ago and together with his wife Tracey who is also David's carer, quickly became very passionate in spreading FND awareness and education in his local community and on our Facebook support group. David hosts our Men's social online catch ups with members Australia wide and David often networks people to people for additional face to face support in their local area. David is very passionate about men's issues and the effect FND has on their lives. David has been a strong consumer advocate for FND over the past 4 1/2 years, his recent interview with Brisbane Neurologist Dr Lagrand can be listened to on 'The FND Podcast with Detty.'
David is devoted to his family and has 8 grandchildren who keep him busy when David isn't advocating for FND.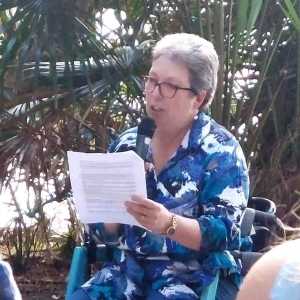 Leanne Moore Honorary Volunteer
She/Her
Leanne has been a valued member of our FND peer to peer Facebook support group since day one. She warmly welcomes thousands of new members offering FND education and information. Leanne shares her wealth of lived experience and knowledge with members daily and delivers this support with great care, kindness, compassion, and commitment.
Leanne is very active in the FND Community, giving consumer presentations within her medical community and her local community in Townsville. Leanne supports a network of people with FND to connect with others in her local community with meet ups for regular face to face coffee and a chat throughout the year. Leanne expresses her ongoing FND journey through her artwork and has strong support and care from her husband Wade. Leanne is a very proud Mother; her children are her greatest joy and pride.
In recognition of Leanne's consistent contributions to the Australian FND Community, Leanne was appointed as our honorary volunteer in February 2023.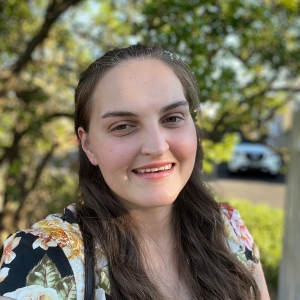 Nell Allen-Coen Volunteer
Moderator & Trainer
She/Her
Nell is our valued Online Support Director and Moderator Trainer for our Facebook support groups, an outstanding communicator who exemplifies the Charity values in her volunteer role. After an onset of symptoms in late 2014, Nell received a formal diagnosis of FND in mid-2017. Nell has a passion for advocacy and is a well-respected advocate and peer support volunteer in the Australian FND community. Nell is also completing her Cert IV in Mental Health Peer Support to work professionally within the FND community in the future, to support others in leading a fulfilling life and achieving their goals.
Nell loves to spend time with her horses and is also learning the art of photography.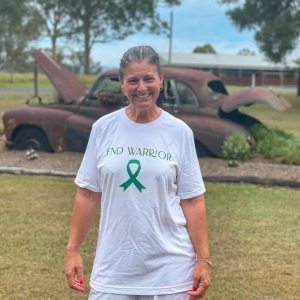 Kate Matheson Volunteer
Graphic Artist
Official Supplier of FND Australia Support Services Merchandise
She/Her
Kate lives in Beaudesert Qld and was diagnosed with FND in August 2021. Kate is a keen photographer and opened her new Etsy online store, 'kraftydesignsbykate', designing eye catching merchandise with her beautiful photography in print. Kate wanted to do more for the FND Community and has information on FND with every item you click on. We collaborated with Kate to design snazzy and comfortable merchandise for FND Australia Support Services in January of 2023. Kate volunteers her outstanding creative talents in graphic design for our programs and content for our social media platforms.
Kate joined our organisation in February 2023 and is a highly valued member of our volunteer team. Kate is a very proud Mum and Grandma, and her passion is photography, camping, painting & family. Kate is married to her husband Wayne & they just celebrated 30 years together. They have 3 kids & 4 grandchildren. . Previously to Kates diagnosis she was a Palliative Aged Care Nurse & Support Worker.
We need your partnership
Let's discuss how we can partner to advance research, knowledge, awareness and services for Australians with Functional Neurological Disorder.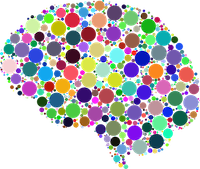 Get your FND questions answered today